Access Control Since 1985
Your Security Is Our Business!
Authorized Brivo Dealer
Comlock Security Group's electronic division provides building security solutions using top quality access control devices from manufacturers known for their reliability and after sale support. From a stand-alone single door unit to complex browser based multi-door systems, we have it covered.
The term access control covers a broad range of applications. Unlike traditional mechanical keying systems, an electronic access control management system allows you to control access through doors by time and date, and even lets you review who went through the door and when. In addition to managing access to individuals, most access systems can generate reports regarding system activity.
Included in our bids are:
All Locking hardware.
End user training.
All necessary permits.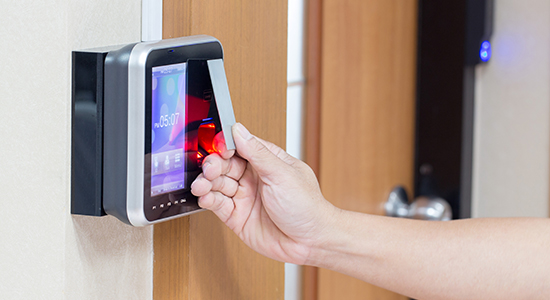 ONE-YEAR Warranty on all parts and labor.
We install NON-PROPRIETARY systems. This means customers are free to use any qualified access control company to service their system. Some companies install specialized equipment only they can work on. This locks you into using them exclusively to service your system; nobody else can work on it. You're not locked into us should we fail to meet your expectations. You stay with us because you want to, not because you're forced to stay with us.
If you notice large differences in dollar amounts when comparing bids, it can be that the lower bid did not include the locking hardware. Often the reason hardware is omitted is that they do not have the expertise on staff to install the hardware. It becomes an add-on at an additional expense and ends up costing you more than the original bid. It could also be that they will maintain ownership of the equipment, meaning you'll end up leasing the system from them so the upfront charges are less.
At Comlock Security Group, we have the expertise to install the locking hardware on every job we do. Our access control bids WILL INCLUDE the locking hardware and installation where needed. In addition, you own all the equipment we install ... its yours!!
The reality is this, we all purchase the equipment from the same sources, we pay a similar price for the products and we have about the same labor rates so the bids should be in line with each other. Start looking for red flags and asking questions when you notice big differences in prices between bids.
Give us a call at (714) 633-1499 to speak with our team regarding your access control project.
Our estimates are FREE and convenient appointments are available Monday through Friday.
Call (714) 633-1499